Information Center
The Sabancı University Information Center has been planned to allow comfortable working and studying quarters for 600, and has an extensive collection of almost 100,000 contemporary printed volumes, 20,000 electronic periodicals and approximately 35,000 multimedia items.  ICcat, the most advanced next-generation cataloging product that provides users with access to information has been introduced to Turkey by the Sabancı University Information Center.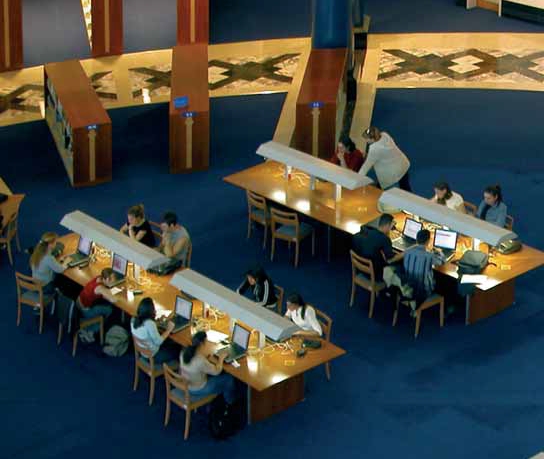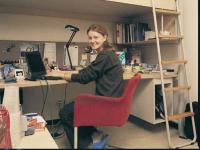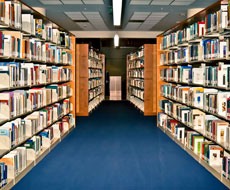 Information Technology Facilities
Sabancı University provides laptop computers to its full-time students. The laptop computer package consists of a laptop computer, a standard set of installed software, and support services on campus. Laptop computers are renewed within two years so as to incorporate technological advances and the varying academic needs of the students. 
The web-based administrative system, on-line teaching tools, videoconferences, and distributed and networked information systems assist in creating an effective, highly collaborative learning environment. The indoor and outdoor network connections throughout the campus connect every student to the Internet as well as to the University's information technology services. The flexible IT infrastructure enhances communication within the community and with the world.
Center for Individual and Academic Development
The Center for Individual and Academic Development (CIAD) provides services that facilitate Sabancı University students' adjustment to university life, and maintains support programs to strengthen and develop the individual and academic skills of students.
A sub-unit of the CIAD is Academic Support, which helps students discover their individual areas of interest and make the best choice in diploma programs and course selections with the support they receive from their academic advisors. By allowing new students to benefit from the experiences and recommendations of cultivated students, peer study sessions facilitate adaptation to the academic and social aspects of life at university. These sessions help students cope with problems and stay on track in their academic life.
The CIAD's Writing Center conducts various workshops, sessions, and group projects to help students develop the skills necessary for writing scientific reports, articles, research papers, and analytical studies in proper academic English. The Center also strives to foster students who are critical thinkers and persuasive writers and speakers. Additional workshops focus on writing résumés and applications, as well as acceptance, refusal, and acknowledgement letters, and developing effective interview and presentation techniques.
The CIAD also holds events to strengthen the ties between the management and faculties, and supports initiatives by all university stakeholders to develop their individual and academic skills.
In addition, together with related administrative bodies, the CIAD provides support for disabled students to ensure that they obtain the most from their university experience. Another opportunity presented by the CIAD is a course evaluation system, which enables students to express their opinions about their courses and professors with the confidence of anonymity, thus ensuring that the education provided by the university is of the best in quality.